Reports are available for every disbursement your organization receives through the Benevity platform. These reports are provided to all recipient organizations after Benevity has verified their identity through a simple registration process. Benevity's corporate clients demand industry leading levels of security and compliance and this verification is therefore critical to us and our clients. If you haven't yet registered your organization, go to causes.benevity.org and click "Register Now" to get started.
Finding Your Reports
To see the report for each disbursement, including donor information and fee breakdowns:
Log in to the Benevity Causes Portal
Select the "Reports" tab on the left side of the profile

Period End Date: The disbursements that you receive from Benevity are an aggregation of all the donations made to your organization via our platform over the course of a month, and are paid in the ensuing month. The Period End Date indicates the closing date for each disbursement.

Example: If the Period End Date is April 30, 2018, the report will contain information for all donations your organization received through Benevity between April 1 and April 30, 2018, and will correlate to the disbursement you received towards the end of May 2018.

Disbursing Entity: The funds your organization receives via the Benevity platform are disbursed by a global network of local partner non-profit organizations, such as the American Online Giving Foundation, who aggregate and disburse funds to recipient organizations in the relevant country and issue receipts to donors. This column will also indicate the currency used for those funds, as well as the currency used in the reports.
Payment Method: For efficiency, accuracy and timeliness of payment, Benevity seeks to disburse all funds electronically, and we are proud that close to 90% of funds are paid this way.  Benevity's available payment methods are as follows:

Electronic Funds Transfer (EFT)
PayPal (in North America)
Check (in North America)

Disbursement ID: This ID number is unique to each disbursement you receive from Benevity.
Each column header can be sorted by clicking on the title.
Viewing your Reports
Once you've identified the disbursement you want to view, select the drop-down menu labelled "Reports" on the right side of the screen.
There are two options to view your Disbursement Reports:
"Download Detailed Report" enables you to download the complete report as a .CSV file, including donation totals, comments, and a breakdown of any applicable fees.
"View Online" displays an overview summary of the report in your browser. This online view doesn't display fee details, and isn't available for disbursements of over 20,000 individual transactions.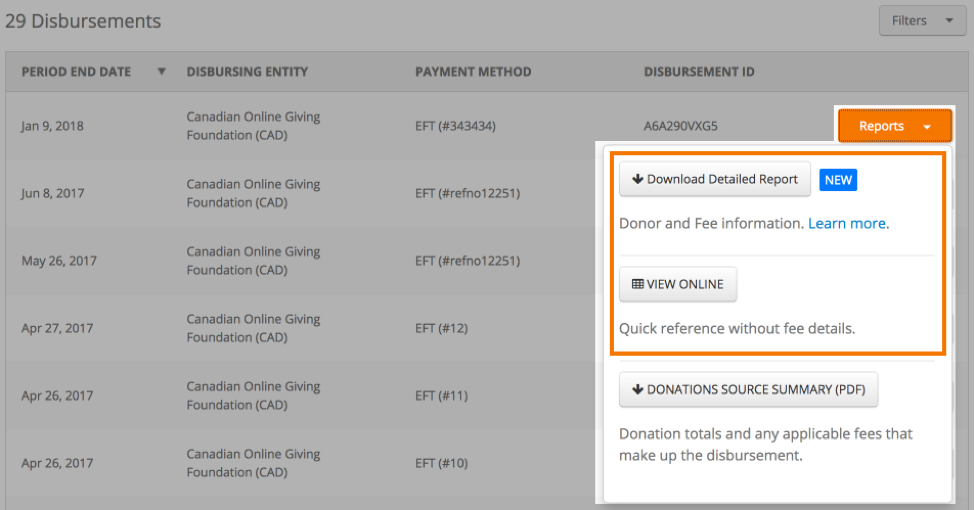 Download Detailed Report
To view all the available information about a disbursement, download the Detailed Report .CSV. This report lists:
Company: The client company whose giving site the donation was made through.
Project: If a donor gave to a specific project you've made available through your Cause Profile, it will be indicated here, and the funds should be directed towards this purpose in accordance with the Benevity Causes Portal Terms of Use. If the project column and comment field is blank, the donation can be directed to the general fund.
Donation Date: The date the original donation was made.
Donor Information: As you might expect, companies and donors expect Benevity to manage their confidential information stringently. Donors are able to choose the level of personal detail that they make available along with their donations. They may choose to include their first and last name, email and mailing address. Or they may donate anonymously and only provide their ZIP/Postal Code, in which case "Not shared by donor" will appear in the column.
Comments: Donors can choose to provide comments along with their donations, which will be listed in this field.
Transaction ID: This is the unique identifier for the donation transaction in our system.
Donation Frequency: Indicates whether the donation was one-time, or a recurring donation.
Donation Amount: The amount in the relevant currency that the original donor gave.
Match Amount: Any matching gifts that were added to the original donation by the relevant company.
Donation Fee & Match Fee: This fee is a variable percentage charge based on the cost of vetting the program eligibility of the cause, collecting and processing donations, disbursing funds and preparing donor receipts and cause reporting.
Merchant Fee: This fee applies to the costs associated with processing credit card, PayPal or similar transactions. The fee can vary based on the payment card type or process used to complete the transactions, and is typically less than 2.5%.
Manual Check Fee:This fee only applies to disbursements paid by check in North America. After an organization receives three manual checks, there is a mandatory 7% fee per disbursement, with a minimum fee being $25.00 and a maximum of $100.00. We encourage all North American non-profit organizations to receive their disbursements electronically so they can access funds faster and avoid these check fees. This fee does not apply to other countries where all disbursements are made electronically.
Net Total: The total amount included in the disbursement net of any applicable fees.
A Note About Fees and Acknowledgements
The tax receipts donors receive from Benevity and our disbursing partners are for the donation amount before merchant or other fees, just as they would be if the donation was made to your organization directly. If you are reaching out to your donors with acknowledgments, please keep in mind that they are expecting to be thanked for the full donation amount.
Understanding Donation Sources
The donation funds that your organization receives via the Benevity platform typically come from one or more of the following sources:
Donations. Funds donated by individuals using one of our client company's giving sites, usually as part of a workplace giving or volunteering program. Benevity Spark is the name of the software product that powers these sites, although it is renamed by most companies.
Matching. Matching amounts added by client companies to individual donations.
Grants or Corporate Donations. In addition to individual donation and matching, Benevity provides software solutions that enable our clients to manage their corporate grant-making programs.
Gifts of Securities. Donations made through the Benevity platform in which an individual has instructed Benevity to liquidate a personal security and then disburse the cash value of that security to a recipient organization.
Older Disbursement Reports
Disbursement Reports for donations made prior to November 31 2018were originally provided in two older formats:
The Donations Report lists donor contact information (as available depending on donor preference)
The Donations Source Summary lists total donation amounts per company, along with any applicable fees in aggregate and the net payable disbursed to your organization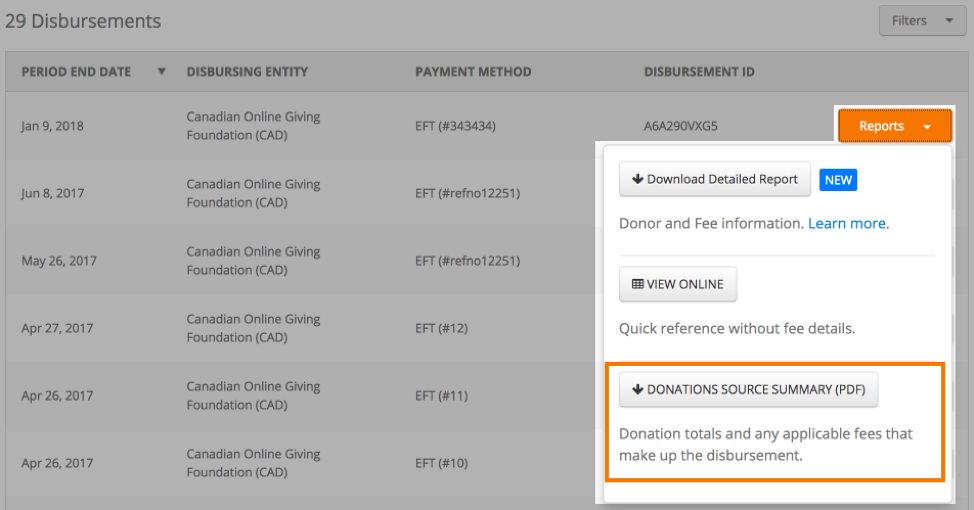 Please note that the fee information available in reports from December 1 2018onwards was not available in the older report formats. To learn more about the "Donation Source Summary Report" click here.