As you complete the steps to fully complete your account, your progress will be reflected in the dashboard section and in the top left corner of your profile. Your profile will not show as 100% complete until you complete all the steps, including uploading a logo and a description for your organization.
Note: If you're located in North America and have opted to receive checks as your payment method, the profile will continue to show as incomplete, but will not affect your eligibility.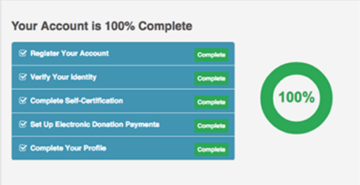 How to complete your registration steps:


​
1. Register your Account - 20%
Claiming or registering your account is the first step to tie an authorized user to your organization's profile on the Causes Portal.
2. Verify Your Identity - 20%
The purpose of verification is to tie an authorized profile administrator to their cause and allow the profile administrator to view confidential donor information pertaining to disbursements
3. Complete Self-Certification Declaration - 20%
Many of Benevity's clients require charities to self-certify against common eligibility requirements to qualify for inclusion in their workplace giving or matching programs.
4. Sign-up for EFT or PayPal - 20%
This step is optional for local currency donations but required for cross border funds. We strongly recommend signing up for EFT or PayPal to avoid the manual check fee, which will be applied starting with your fourth check. It is safe and more cost-effective, saving you money!
5. Complete your Profile - 20%
This step requires that the 'Short Summary' and 'Charity Description' sections be completed. This is the information that potential donors see once they click on your profile - first impressions count!